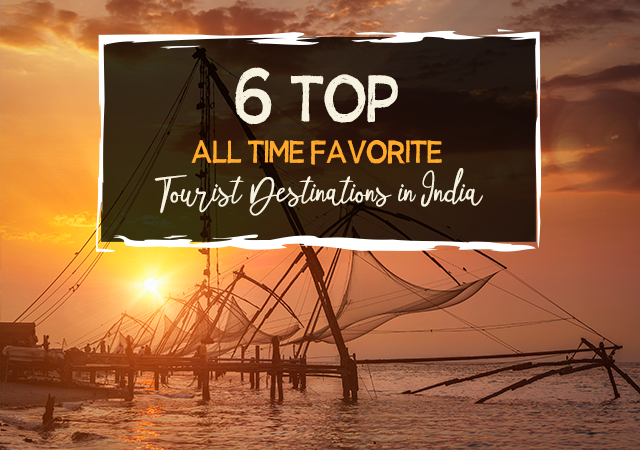 India is an enigma and it fits the bill for all kinds of vacation ideas. Whether it is a family vacation, a thrilling adventure or spiritual progression, you have everything here.
It is also worth noting here that Kerala has been awarded the title India's Best Destination at the Condé Nast Traveler Readers' Awards 2016. The Lonely Planet Magazine and the Travel + Leisure Magazine cite Kerala as one of the best destinations for families and honeymooners respectively.
1. For the adrenaline driven adventure junkies – The Chadar Trek in Ladakh
Ever dreamt about walking over a frozen river? Doesn't it provide you with the necessary thrill and adventure? Zanskar River in Ladakh tops the list for India's most popular adrenaline driven trekking paths. It remains frozen during the winter, and the best time to cross the lake would be during January-February months. If you are travelling by air, you can get down at Leh. You can catch several glimpses of the snowcapped maintains while your flight lands at Leh, preparing you emotionally for a thrilling journey ahead.
Leh is located at about 11,400 feet above sea level, and your trekking journey starts from Chilling village. The Zanskar River freezes from here, and it is also the point where you start walking. The trekking route is absolutely divine. With magnificent caves, and frozen waterfalls, trekking along the lake over ice will reenergize your senses and provide a once in a lifetime experience.
It is true that you have to follow a number of rules and regulations because trekking along ice is no small feat. Hence, make sure you don't have asthma or high blood pressure while attempting this adventure.
2. For the history buffs that love learning about Buddhism and pictorial art – Ajanta & Ellora caves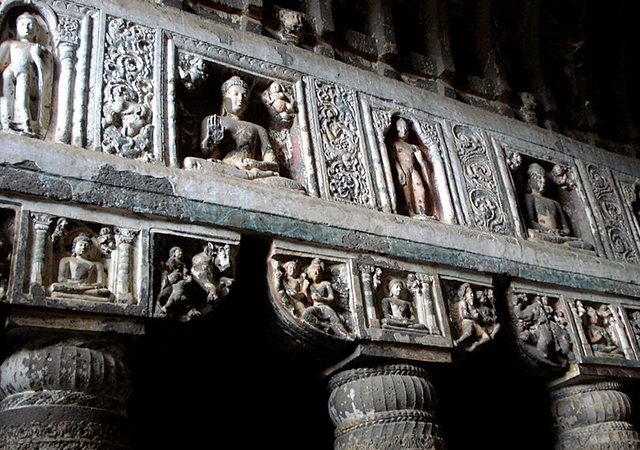 You might have learnt about the Ajanta and Ellora caves in Aurangabad district of Maharashtra in school. But have you ever heard about actually visiting these rock cut cave mountains? These caves are the perfect examples of impressive artistry of a bygone era. It is believed that these monuments were created during the period first century BC and 5th century AD by the Rashtrakuta dynasty and the Yadav dynasty.
The magnificent rock paintings undoubtedly make Ajanta and Ellora caves magical and hence important tourism destinations. People who visit the caves actually feel the magic in the area, perhaps due to the panoramic gorge that greets them as they arrive. The caves themselves are divided into three sections – Buddhist caves, Jain caves and the Hindu caves.
Both Ajanta and Ellora are situated 100 kilometers away from each other. Ajanta Caves are much older, but have a specific structure, the shape of a shoe. Ellora caves on the other hand, are more random and scattered. While visiting Ajanta, remember Cave 1, 2, 4 and 17 are the most popular caves. Don't miss them. And while at Ellora, Cave 1, 2 and 16 are the must visit caves.
3. To glimpse backwaters, beaches and wildlife – Kochi
Kochi in Kerala is every bit the place you want to visit if you want to spend some time in the calm serene backwaters in quiet solitude. The best way to savor the beauty of the backwaters would be to enjoy a houseboat ride. You can return to land in time to enjoy the sunset through the Chinese fishing nets or stretch out on the white sandy beaches.
The picturesque city of Kochi can be best enjoyed on a biking tour as well. There are numerous cycling clubs and groups in the city that would help you rent a bike, and you can experience the best of the cultural delights offered by the city. Your tour operator can help arrange wildlife packages to numerous places near Kochi. There are weekend tours that will easily fit into your itinerary.
Kochi-Kumarakom-Periyar-Alleppey-Kochi is the most commonly enjoyed tour route that would let you glimpse exciting wildlife, plenty of birds and beaches and a healthy dose of nature.
4. Exploring the marine delights – Andaman
If watching the deep blue sea and its gorgeous residents is your idea of a vacation, then make a trip to the Andaman Islands. The island is a backpacker's delight and a diver's dream, so you can indulge in a myriad of activities like scuba diving, fishing, snorkeling, undersea walking, angling and so on.
The experience of fish swimming beside you while you take a walk in the sea is incredibly amazing, and provides for a surreal experience.
For angling and fishing, you can hire equipment from the island itself. Visitors take delight in hiring a glass bottom boat to enjoy the magnificent flora and fauna of the Andaman, so don't miss it at all.
5. On a spiritual recourse through pilgrimage to temples – Tamil Nadu
Tamil Nadu is famous for its revered and famous temples. If you wish to explore your own spiritual side, you can head there and explore all the famous temples. Must include temples in your itinerary are Meenakshi Amman Temple, Ranganathaswamy Temple, Brihadeeshwara Temple, Sarangapani Temple and Thillai Natarga Temple.
Each of these temples is located in different cities, so you might have to set aside 5 days to enjoy the architecture of these temples and also other temples in the area.
6. On a rail adventure that includes the ocean – Tamil Nadu to Rameshwaram
This rail journey from Tamil Nadu to Rameshwaram is not to be missed. It is not merely a journey, but an experience that leaves you awestruck. The scenic beauty while travelling on the sea bridge is incomparable. You get to travel on the second longest bridge in India, the Park Straight and it connects the country with Pamban Island. As you whizz by, you can see ships and boats passing beneath the bridge.
Dhanushkodi in Rameshwaram is a must visit place while you alight. The 1964 cyclone left the area uninhabited, but the beauty of the now ghostly town makes it a worthy visit.
Conclusion
Listed above are a few destinations in India that are highly popular among tourists. Each of these destinations will provide you with a different and unique kind of vacation that makes it irresistible.
Author Bio:
Sunu Philip is the Inbound Marketing and Creative Head for Paradise Holidays,
Cochin – a Kerala based tour operator. She loves reading, exploring new places and trying out different cuisines!