The Land of Smiles is famous for being the perfect tropical island getaway. Thailand boasts more than 2,000 miles of coastline and a stunning 8,000 islands, with a wide variety of beaches to suit every taste. From endless stretches of sand packed with partying travelers to quiet secluded coves, you won't be stuck for choice. Here's a quick rundown of our top five best beaches in Thailand.
Patong Beach
If you're looking to do more than just splash around in the water and soak up the sun, then the activity-packed Patong Beach in Phuket is as good as it's going to get. Patong is known as Phuket's unofficial party capital, filled with bars, nightclubs, restaurants and outdoor markets. But the real gem is the 3.5km long Patong Beach, with its jet ski rentals, para-sailing adventures, diving trips, scuba tours, kayak rides and a whole lot more besides.
Patong Beach is almost always busy, which makes it the best choice for those who love being in a crowd.
Haad Rin
Located on the island of Koh Pha Ngan, Haad Rin is the beach where you'll find Thailand's world famous Full Moon Party.
Admittedly the Full Moon Party isn't going to suit everyone's tastes, but it's the number one destination in Thailand for thousands of younger travelers who flock to the island each year. Now held twice a month (there's a Half Moon Party too), this beautiful beach is transformed into a party-goers heaven with massive sound systems everywhere and crowds of alcohol-fueled hipsters and happy folk dancing the night away.
Haad Rin is unsurprisingly one of the top destinations for the backpacker crowd, but may not be such a great option for older folk or those traveling with kids.
Phra Nang Beach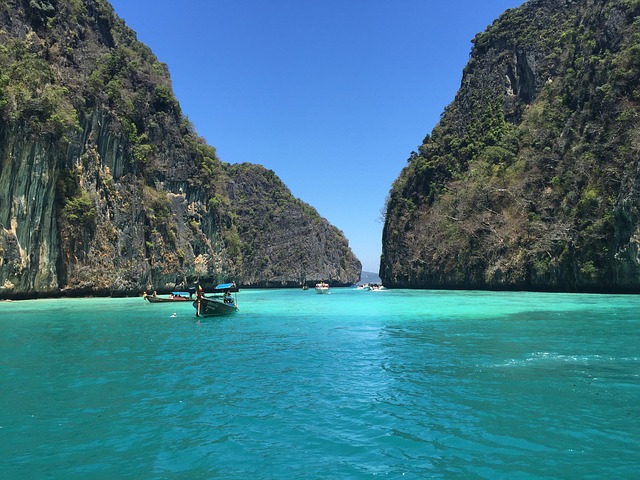 Phra Nang Beach is located in Krabi province in the south of Thailand, at the tip of the Railay peninsula that extends out into the Andaman Sea. Although it's popular with backpackers there's none of the party madness that goes on at Haad Rin. Instead, visitors are blessed with the sight of stunning limestone cliffs, beautiful white sand and crystal clear waters.
Besides being beautiful, there's also plenty of activities to do, from jet-skis and sailing trips to fishing and more. Best of all though, Phra Nang Beach is known as one of Thailand's top rock climbing destinations. Those who want to scale the stunning cliffs can choose from numerous climbing instructors who'll be only too happy to show them the ropes.
The beach has to be accessed via long tail boat from nearby Ao Nang beach, but although getting there is slightly unconventional, that doesn't stop it from getting quite crowded during the busy months.
White Sand Beach
For family fun there's few better beaches than White Sand Beach on Koh Chang, the second-largest of Thailand's islands. But although it's big, Koh Chang's location in the southeast of Thailand (far away from popular tourist islands like Koh Samui and Phuket) means it's a lot less crowded than the typical bustling resort in Thailand, which makes it a great escape for those who prefer to spend their time on vacation relaxing.
Of course, there are still plenty of bars, restaurants and markets to keep visitors occupied when they get bored of lounging around in the sun.
Maya Bay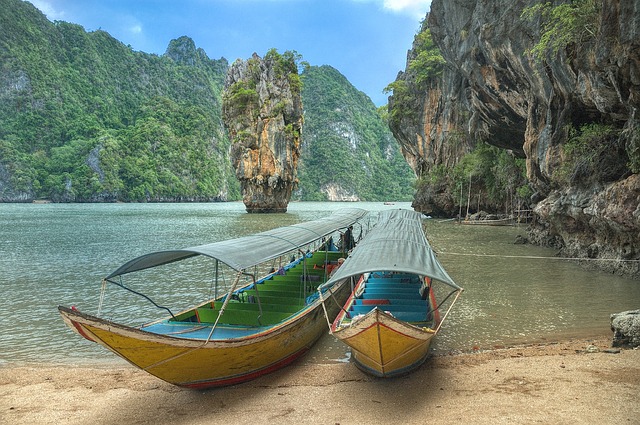 Last but certainly not least, Maya Bay is instantly recognizable for being the location where Leonardo DiCaprio's hit film "The Beach" was shot, unmistakably exotic with its tall cliffs and stunning white sands. Maya Bay's popularity is arguably one the major reasons why the south of Thailand is so popular with backpackers today, and even though the beach isn't as unspoilt as it once was thanks to the numerous resorts which now line it, it still retains much of its stunning natural beauty. It's also not as busy as other tourist destinations.
Maya Bay is also well known for the excellent snorkeling and diving opportunities on offer, but travelers should be aware there are no accommodations on the island – instead, travelers visit the island for the day and sleep on the larger Ko Phi Phi Don.