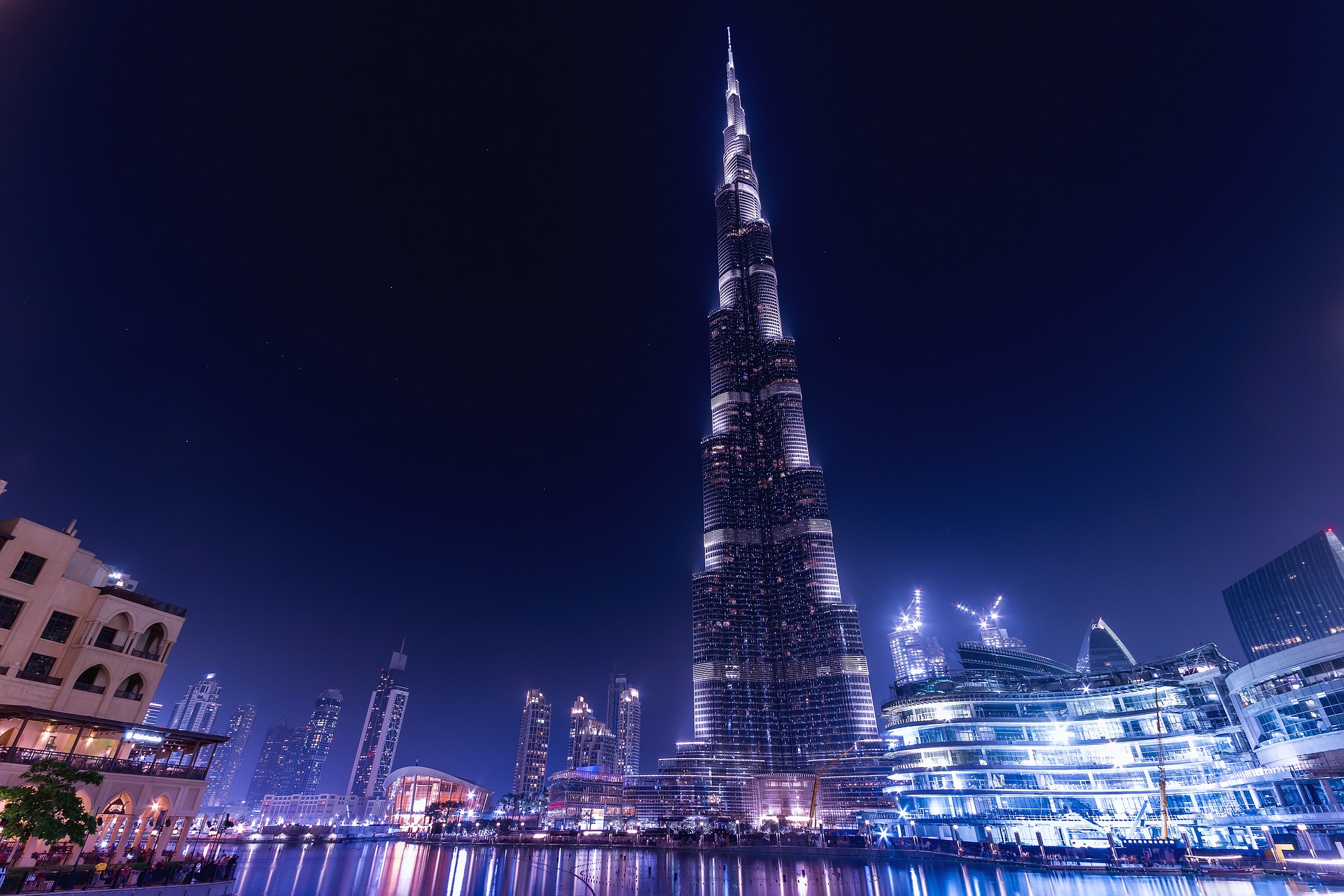 Dubai, in the United Arab Emirates, is quite the amazing place. It is filled with futuristic high rise buildings and amazing shopping malls. Where once it was a desert outpost, now it is an outpost for tourists and shopping. There are so many unusual things to see in Dubai, such as indoor ski slopes, or aquariums, or gold covered rooms. It's hard to decide where to start. Dubai is an amazing destination.
Tallest building in the world
The Burj Khalifa is the tallest building in the world and probably the most famous landmark of the city. Seeing the view from the 124th-floor observation deck is the number one must do when you visit this city. Seeing the daytime view across the city's skyline is awe inspiring. The view at night is a sea of lights and is just an amazingly beautiful vision and a popular shot with photographers. There is more to do here than just see the view however. The high-speed elevator that takes you there is an amazing trip all by itself. At the base of the tower, there are beautiful gardens with winding walkways and plenty of fountains. The Dubai Fountain is the world's tallest performing fountain and is modeled after the Bellagio in Las Vegas. Plan on getting your ticket for the observation deck early as the lines can be incredibly long so it is best to plan ahead.
Dubai Museum
We have always said we love museums, and visiting Dubai museum is no different. Even the building itself is history. Built out of traditional coral blocks and bordered with lime, the building was built in 1787 as a defensive fort. It had been renovated many times with an extensive renovation in 1995. It is always good to see the museums of an area to get below the surface of the location you are in, to understand the places and peoples of that area.
Old Dubai
The Bastakia Quarter, often referred to as Al-Fahidi, was originally built for merchants to bring them to Dubai for the tax-free trading. Old Dubai, gives you a feel of the Dubai of the past, as it has been well preserved. There are also some exceptional galleries in this area as well
Palm Jumeirah
Palm Jumeirah is basically a man-made island, one of a set of three planned. It is one of the newer additions to Dubai and has a lot of activities and things to see. It hosts resorts, malls, beaches, pretty much something for everyone.
Dubai Aquarium
This is just a jaw-dropping attraction. It is a massive suspended fish tank in the Dubai mall, housing over 140 species of aquatic life. You can see the tank for free at the mall or you can also buy tickets and walk through the tunnels of this underwater wonderland. The tank is so large that they offer glass bottom boat rides on top of it. Imagine that.
Most expensive hotel in the world
Burj al-Arab is one of the most decadent hotels you could ever want to go to, however with suites at upwards of $15,000 a night, it better be, so you never forget the experience. There is a one of a kind dining experience there as well. The restaurant is like being in the middle of a fish tank, with wall to wall glass showing aquatic life. This hotel has to be seen to be believed, even if the price tag is a little high for that fast holiday.
There really is a lot to see in Dubai, and you will need some time to see it. Make sure that you follow all laws and rules locally, as they are very unforgiving. Dubai still holds onto age-old societal rules, it is better to always respect them. Hopefully our travel tips helped you. Enjoy a once in a lifetime trip there. Stand on the top of the tower and see the future.